Recovering from addiction is complex, and it can be one of the largest challenges you will face in life. When you are focused on addiction recovery, what can you do to make the process easier? While meditation may not seem like a powerful and immediate tool for addiction recovery, it can be one of many healing tools in your plan to recover from addiction in the long term.
Meditation Helps You Control Your Thoughts 
If you are focused on the need for addictive substances or worried about how you are going to cope without them, it can be easy to move into old patterns of behavior. What if you could control your tendency to worry and ruminate on these thoughts? According to Forbes, "since mind-wandering is typically associated with being less happy, ruminating, and worrying about the past and future, it's the goal for many people to dial it down." Meditation does this. The practice has a quieting impact on these worrisome thoughts.
Psychology Today talks about how addiction can stem from a state of unhappiness that we feel "could be cured if only we could have the money, job, relationship, recognition, or power we had and lost." Meditation helps calm these desires since it allows you to see what you are attached to and let it go.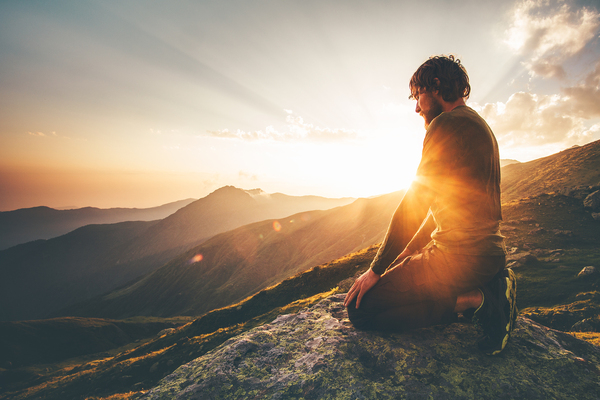 Meditation Can Help With Anxiety and Depression 
Anxiety and depression can be triggers that lead back to old patterns of addiction. You once used drugs or alcohol to manipulate your mood, and it is tempting to go back to that pattern. However, you can also use nutritious food, sleep, and meditation to do the same thing, but in a much healthier way.
By training your brain through meditation, you can actually reduce your anxiety and depression, making it easier to get rid of old patterns and move into new ones. According to Forbes, the impact of meditation on depression and anxiety is similar to that of antidepressants.
If you think that you need to work for many years to reap the benefits of meditation, you are wrong. Even a few weeks of meditation can improve concentration, and the effects of mindfulness meditation on anxiety can last for years.
Maintaining Sobriety in the Long Term
Meditation will not solve all of your problems or provide a quick and easy fix to your life. In large part, addiction recovery involves managing your environment and your thoughts so that you will have the best environment in which to recover.
One way to manage your thoughts is by changing your brain. While it was once thought that the brain would not change a lot in adulthood, the brain can change and can develop a state of awareness that enables meditation practitioners to manage anxious and negative thinking, take a new perspective, and focus on enabling a sober lifestyle.
Addiction recovery is a process. At Advanced Recovery Systems, we appreciate all parts of this process and strive to provide those working through addiction with the tools they need to manage in the long term. Are you curious about how Advanced Recovery Systems can help support you, your friends, and your family members? Contact us today.