Addiction rehabilitation is essential to long-term recovery, yet it is incomplete on its own. Rehabilitation does not end after you complete rehab, though that is a momentous occasion of which you should be proud. Rehabilitation and recovery are continuing aspects of your life without addiction, and your rehab program should include creation of a personalized aftercare plan concerning which healthcare services you should receive, where you should live, how you can strengthen your substance-free identity, and how you can build a positive, supportive community.
Do not let the concept of "community" put you off if you happen to be an introvert. Nobody says you must interact in certain ways with certain people, at a prescribed frequency. Community, like rehabilitation, must be personalized to be of greatest benefit in your addiction recovery. Here is how you can build the supportive community you need to maintain recovery for the long term.
With Whom Can You Maintain Existing Relationships?
Some people with substance abuse disorders simply must cut contact with certain people from their former life as an addict. As difficult as this can be, it is sometimes necessary in order to remain healthy. Likewise, there may be people who have been in your life for a long time and for whom you care, but from whom you need some time away. Maybe you have a "challenging" relative you love, but you need more healing before you can be in each other's lives again.
That said, who from your pre-rehabilitation life was positive and supportive? They could be family members, friends, co-workers, neighbors, or even a service worker you struck up a friendship with while getting your daily cup of coffee for years. Be clear about how much you are ready to talk about with respect to your addiction and recovery. Often, the people you loved are ready to pick their relationship with you back up, in hopes of strengthening it further as you recover.
Incorporating Activities That Lead to Community
Maybe there are not that many people in your life, but that does not mean you cannot build the supportive community you need. Countless options exist. Perhaps you could learn a new hobby, join a local book club at the library, or get involved with a community group whose work you admire. Do not forget about the support that can come from local 12-step meetings, which can be priceless.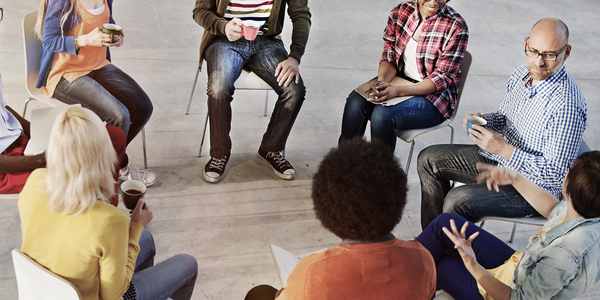 If you have the resources and time to devote to it, adopting a pet can be a tremendously rewarding way to build a strong bond and give yourself a gateway into the larger community. There is no better ice-breaker than taking your dog to the dog park or signing up for training classes. Incorporate activities that make your transition back to a supportive community possible. You do not have to attempt to do everything, but be willing to take that first step.
The Importance of Setting Goals
Setting goals can take place on many different levels, and when you set and complete them, you put yourself closer to your community. For example, if your goal is simply to put on clean clothes and return a library book, achieving it not only takes care of a necessary task but also puts you in the community in a low-pressure setting.
As you integrate yourself further into the community, your goals can expand. Eventually, for instance, you could volunteer to be the discussion moderator in your book club or teach your new crochet skills to kids in an after-school program. You could enter your pet in a costume contest, or build up your endurance to run a 5K race. The important thing is setting goals – however small – and pursuing, accomplishing, and reflecting upon them.
"Community" Can Be Defined in Many Ways
The concept of "community" means different things to different people. When you complete rehabilitation and pursue continued addiction recovery outside the facility, developing a community of people that help you get stronger and inspire you to keep on with your commitment can be an enormous help to the success of your recovery. Talk with your addiction recovery team, your 12-step sponsor, your healthcare provider, or others you trust about ways to build a strong community as you transition to life without drugs. The effort is real, but the rewards can be disproportionately good.